In the Library

Are you looking for information on improving fatigue life? Our online library has 1,389 articles related to the subject. In fact, shotpeener.com is the world's largest resource for information on all aspects of shot peening and blast cleaning.
Visit the library today—you're sure to find useful information here.
Trending in Q & A Forum

Q. As we know intensity is independent of time, but coverage not. I recently read a process spec … in which it seems to say that peening time affects intensity. What do you think about this quote?
A1. Peening intensity is independent of time but peening intensity measurement depends on time – arc hieght which increases by 10% when the peening time is doubled. The specification may have intended … read more
In the News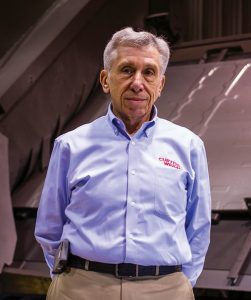 Dominic Cimino Named 2017 Shot Peener of the Year
Dominic Cimino, Regional Manager of the North America Shot Peening Group for Curtiss-Wright Surface Technologies, received "The Shot Peener of the Year" award for two reasons. The first reason is his substantial contributions to the advancement of peen forming and shot peening. The second reason is because he was nominated by not one, but four […]
» Continue Reading

---