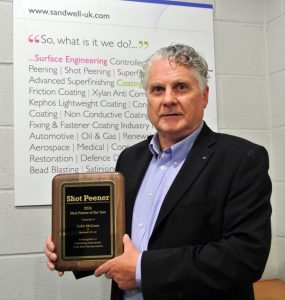 The Shot Peener magazine has named Colin McGrory as their 2016 Shot Peener of the Year. Since 1992, the magazine has given the award to individuals that have made significant contributions to the shot peening industry.
Colin McGrory, Co-Founder and Technical Director of Sandwell UK, received the award in recognition of his success as an innovative entrepreneur and his enthusiasm for continually exploring and improving the shot peening process. Sandwell UK provides shot peening, decorative finishing, specialist coatings, advanced technologies, failure analysis and performance engineering consulting to customers in motorsports, oil and gas, renewables, aerospace, medical and consumer products.
Colin continually seeks to improve the shot peening process, from developing new equipment to integrating shot peening with advanced technology. "We often take on a small job that is not in itself financially beneficial, but if we can learn from it, if we have to develop a new technique or produce a nozzle to access certain areas, then the value of the work is in the knowledge we gain. I guess I'm fortunate in that as it is my company, we tend to choose the more interesting work even if it is not always the most financially rewarding," said Colin.
In addition to attending to his responsibilities at Sandwell UK, Colin volunteers his time to the SAE Committee for Surface Enhancement and travels to the United States on a regular basis for meetings, thereby making a contribution to the development of specifications for the shot peening industry.