Specifications Relating to Shot Peening
The articles below are archived in the shotpeener.com Library. Click on an article title below to view details and access a free full text pdf.
Abstracts of many shot peening specifications are listed in this database, however, the full text document must be purchased from the copyright owner (SAE, ASTM, etc.)
Total articles (180)
Page 10 of 13
Year: 1984, Source: SAE: ARP 1631
This document establishes the requirements for the sequencing of processes relating to parts fabricated from 300M ro 4340 modifies steel heat treated to, or to be heat treated to 270,000 psi (1,860 MP...


Year: 1984, Source: SAE: J 443 Jan84
This SAE Recommended Practice provides uniform procedure for using the standard shot peening test strips in SAE Standard J442, Test Strip, Holder and Gage for Shot Peening. Descriptors: Shot peening...


Year: 1984, Source: SAE: J 445 Aug84
This report is intended to provide users and producers of metallic shot and grit with general information on methods of mechanically testing metal abrasives in the laboratory. Descriptors: Grit; Shot...


Year: 1983, Source: QQ-A-250/4E INTERIM AMENDMENT (superseding amendment-1, Oct 22, 1974)
The interim amendment was developed by the Naval Air Systems Command, Department of the Navy, Washington, DC 20361, based upon current available technical information. It is recommended that Federal ...


Year: 1982, Source: SAE: AMS 2430 J Rev. 01/1982
This specification covers the engineering requirements for peening surfaces of parts by impingement of metallic shot or glass beads....


Year: 1982, Source: QQ-A-250/11F (Superseding QQ-A-250/11E Aug. 27, 1971)
This specification covers the specific requirements for aluminum alloy 6061 plate and sheet....


Year: 1981, Source: SAE: J 811 Aug81
1.1 INTRODUCTION: The word "prestressing" implies that a stress is applied prior to service. for the pruposes of this discussion this is a true but insufficient, definition. It must be extended to s...


Year: 1981, Source: A-A-1722
THE GENERAL SERVICES ADMINISTRATION HAS AUTHORIZED THE USE OF THIS COMMERCIAL ITEM DESCRIPTION IN PREFERENCE TO MILITARY SPECIFICATION MIL-G-5634 This commercial item description covers soft abrasive...


Year: 1981, Source: MIL-M-45202C
This specification covers the requirements for equipment, materials and procedures to be used in anodic treatments of magnesium base alloys for the purpose of increasing their corrosion resistance or ...


Year: 1980, Source: MIL-G-9954A, Amend. 2
This specification covers glass beads to be used with pressure/suction type blasting equipment....


Year: 1980, Source: MIL-STD-45662 (Superseding MIL-C-45662A Feb. 9, 1962)
10 June 1980 This standard provides for the establishment and maintenance of a calibration system to control the accuracy of the measuring and test equipment used to assure that supplies and services...


Year: 1979, Source: MIL-A-21380B Amendment 1 1979
This amendment forms a part of Military Specification MIL-A-21380B, dated 15 July 1965, and is approved for use by all Departments and Agencies of the Department of Defense....


Year: 1979, Source: SAE: J 442 Aug79
This SAE Standard is supplemental by an SAE Recommended Practice, Procedures for Using Standard Shot Peening Test Strip, SAE J443. Outline of Method of Control--The control of a peening machine ope...


Year: 1979, Source: MIL-S-851C Amendment
This amendment forms a part of Military Specification MIL-S-851C, 30 May 72....


---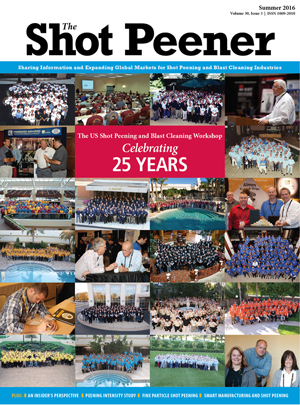 The Shot Peener magazine is dedicated to sharing information and expanding global markets for the shot peening and blast cleaning industries. We cover topics of importance to a wide range of readers -- from OEMs to engineers to academics to machine operators -- in a fresh and engaging format. The magazine is free of charge to make it accesssible to as large an audience as possible.
Electronics Inc. publishes the magazine. For more information, visit The Shot Peener magazine.