Patents Relating to Shot Peening
The articles below are archived in the shotpeener.com Library. You can search these articles by using the keyword search below. Click on an article title to view details and access a free full text pdf. Search Tips
Total articles (550)
Page 7 of 40
Year: 2000, Source: US Patent 6,022,427
A method of manufacturing helical springs from steel wire. The springs' skin is thermomechanically hardened by shot peening the unstressed springs followed by thermally destressing them, and shot peen...


Year: 2000, Source: US Patent 6,012,316
With a view to increasing the lifespan of metallic dental components as regards fatigue fractures, compressive stresses are introduced into the surface layer of these components, such as by means of s...


Year: 2000, Source: US Patent 6,009,980
An improved ductile iron vehicle hub and method for producing the same wherein the method includes the steps of (a) providing a vehicle hub formed from ductile iron and including a generally axially e...


Year: 2000, Source: US Patent 6,126,516
A centrifugal blasting apparatus is configured to deliver friable media without destroying a large percentage of the delivered media. The centrifugal blasting apparatus includes a compressed air feed ...


Year: 2000, Source: US Patent 6,038,900
The present invention relates to a method for a surface treatment of a metallic product. In this method, by conducting one step of injecting mixture shots including at least two types of shots compris...


Year: 2000, Source: US Patent 6,018,854
When a shot having a hardness equal to or higher than a ferrous or nonferrous metal shot material is blasted against the surface of the metal shot material at a blasting speed of 80 m/s or above, the ...


Year: 2000, Source: US Patent 6,062,956
A blast cleaning apparatus is provided having a rotatable conveying surface preferably comprising wire mesh. Workpieces are conveyed through the blast cleaning chamber on the rotating conveying surfa...


Year: 2000, Source: US Patent 6,058,584
A casing has a processing chamber and a drying chamber defined therein by a partition mechanism. The processing chamber houses an impelling mechanism for impelling a mixed stream of glass beads and w...


Year: 2000, Source: US Patent 6,012,975
A particle blasting nozzle has a nozzle body having an outlet opening and a suction connection with an acceleration tube extending at least partly within the nozzle body. The front end of the accelera...


Year: 1999, Source: US Patent 5,950,469
An apparatus for surface-hardening steel balls includes a container having projections protruding inwardly from and extending longitudinally along an inner wall; a support shaft having projections ext...


Year: 1999, Source: US Patent 5,882,149
ABSTRACT An apparatus (10) is disclosed for measuring the mass flow of pneumatically conveyed particles along a transport tube 14. The apparatus includes a fluidized bed of the particles 16 and an ap...


Year: 1999, Source: US Patent 5,897,427
A blasting apparatus has two or more pressured tanks and a switching member for selecting one of the pressured tanks from which particles are to be fed to an ejection portion, thereby which enabling a...


Year: 1999, Source: US Patent 5,947,800 September 7, 1999
An apparatus for cleaning or treating by blasting of a surface which includes an enhanced media delivery regulating system which includes supplying high pressure air to a suction gun and using this to...


Year: 1999, Source: US Patent 5,868,022
The invention relates to a method for producing a diaphragm spring where only specific portions of the diaphragm spring are subjected to a shot-peening process. The shot-peening step is performed only...


---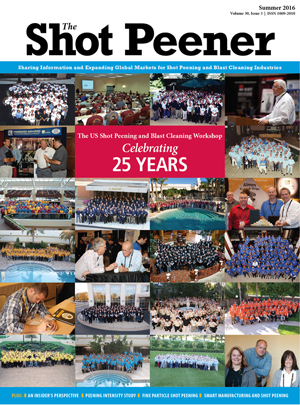 The Shot Peener magazine is dedicated to sharing information and expanding global markets for the shot peening and blast cleaning industries. We cover topics of importance to a wide range of readers -- from OEMs to engineers to academics to machine operators -- in a fresh and engaging format. The magazine is free of charge to make it accesssible to as large an audience as possible.
Electronics Inc. publishes the magazine. For more information, visit The Shot Peener magazine.