Patents Relating to Shot Peening
The articles below are archived in the shotpeener.com Library. You can search these articles by using the keyword search below. Click on an article title to view details and access a free full text pdf. Search Tips
Total articles (550)
Page 3 of 40
Year: 2013, Source: US Patent 8,453,305
The present invention is directed to a method and apparatus for processing a metallic gear comprising providing a gear, directing a first peening media at the metallic gear thereby exposing a pluralit...


Year: 2011, Source: US Patent 8,062,094
Pinion gears for planetary gear transmissions are hobbed, heat treated, and then ground to get better control of the leads/profiles on all the gear teeth. Then a light shot peening is applied to the t...


Year: 2011, Source: US Patent 8,024,846
A method for preparing a surface includes providing an article having an article surface, thereafter first processing the article surface to establish a first residual compressive stress state and a f...


Year: 2011, Source: US Patent, US 7,954,348 B2
A method of peening a surface which comprises the steps of providing a rotary peening tool having at least one rotating flap mounted on the drive shaft which is rotatably driven, measuring the speed o...


Year: 2010, Source: US Patent 7,735,350 B2
Determining shot peening intensity by affixing a Almen test strip to a shot peening surface, removing the peened strip from the shot peening surface, measuring an arc height of the shot peened strip, ...


Year: 2009, Source: US Patent 7,516,547
A gas turbine engine blade having a dovetail with an enhanced surface for durability is disclosed. The blade includes an airfoil section and a dovetail section disposed opposite the airfoil section. T...


Year: 2007, Source: Canadian Patent 2 127 062
A method of strengthening and repairing damaged threads. Firstly, remove metal buildup from the damaged threads. Secondly, peen the damaged threads using glass beads. The glass beads are not less than...


Year: 2007, Source: US Patent 7,159,425 B2
ABSTRACT The shot peening method and apparatus (FIG 13) of the present invention utilizes control of the shot peening coverage to provide higher surface compression and comparable depth of compressio...


Year: 2007, Source: US Patent 7,291,058 B2
ABSTRACT The flow of media in shot peening, blast cleaning, and similar equipment is improved by applying a time varying magnetic field to the media to thereby degauss the media, allowing the media t...


Year: 2006, Source: US Patent 7,131,310
A method for cold working metal structures. A compound indenter is used to produce deformation in a workpiece to provide a selected beneficial residual stress profile, to provide improved fatigue life...


Year: 2006, Source: US Patent 7,125,322 B1
ABSTRACT A media transport device for use in shot peening, blast cleaning, granite cutting, and similar applications transports media from a storage hopper to a workpiece. The media transport device ...


Year: 2006, Source: US Patnet 7,131,303 B1
ABSTRACT The portion of an orthopaedic implant to which soft tissue adherence is desired is treated by shot peening using microbead having a diameter in the range of about 10 microns-300 microns. Thi...


Year: 2005, Source: US Patent 6,911,100
A method for producing predetermined internal stresses in a prosthetic device for implantation. The method includes first determining internal stresses which are preferred in prosthetics to instill a ...


Year: 2004, Source: US Patent 6,811,149
Predetermined non-uniform residual compressive stress distributions are induced in the spring wire of metallic coil springs. The residual compressive stress tends to reduce deleterious effects of both...


---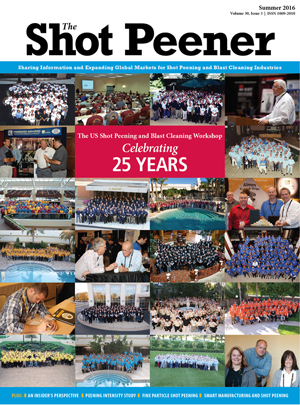 The Shot Peener magazine is dedicated to sharing information and expanding global markets for the shot peening and blast cleaning industries. We cover topics of importance to a wide range of readers -- from OEMs to engineers to academics to machine operators -- in a fresh and engaging format. The magazine is free of charge to make it accesssible to as large an audience as possible.
Electronics Inc. publishes the magazine. For more information, visit The Shot Peener magazine.