Patents Relating to Shot Peening
The articles below are archived in the shotpeener.com Library. You can search these articles by using the keyword search below. Click on an article title to view details and access a free full text pdf. Search Tips
Total articles (550)
Page 1 of 40
Year: 2016, Source: US Patent 9,458,529
A high hardness, high toughness and inexpensive shot material for shot peening is provided. The high-hardness shot material for shot peening comprises, in mass %, 5 to 8% of B; 0.05 to 1% of C; 0 to 2...


Year: 2016, Source: US Patent 9,457,451
The problem of the present invention involves providing a gear that has high tooth-root bending strength and for which there is no chipping of the tips of the teeth. Accordingly, the surface of the ge...


Year: 2016, Source: US Patent 9,382,609
A process for the surface treatment of a metal part comprises: exposing a surface of the metal part to a stream of substantially spherical particles, so that any portion of said surface receives said ...


Year: 2016, Source: US Patent 9,333,626
The present invention provides an apparatus for forming a shot that can prevent a loss of shot in the process of forming and sorting the shot balls and can collect dust in a cyclone type that can stro...


Year: 2016, Source: US Patent 9,289,880
A method for setting a shot-peening process condition includes a step of obtaining, for each of a plurality of peening conditions for a first combination as a combination of a shot peening processing ...


Year: 2016, Source: US Patent 9,278,412
The disclosure relates to the treatment of rods made of metal, particularly to the method of reclamation of used standard length rods, such as pump rods already used in the mechanical deep-pumping ext...


Year: 2016, Source: US Patent 9,278,387
A method for producing a leaf spring having a leaf portion and an eye portion formed at the leaf portion including: forming a gap between a leading end of the eye and a facing surface facing the leadi...


Year: 2016, Source: US Patent 9,248,547
The purpose of this invention is to reduce the changes in the conditions of the processing for projecting shots, and to downsize the air-type shot-treatment machine and simplify its structure. An air-...


Year: 2015, Source: US Patent 9,200,341
A method of cavitation peening a workpiece is provided. The method includes discharging a flow of fluid towards the workpiece at a pressure and a flow rate that facilitates forming a plurality of cavi...


Year: 2015, Source: US Patent 9,181,045
Novel systems and apparatuses for conveying particulate media are disclosed. One such system may include a conveying tank configured to receive media and push it out to a media distribution valve to b...


Year: 2015, Source: US Patent 9,163,295
The present invention aims to provide a shot-treatment apparatus which allows a high throughput of workpieces with the least possible idle time while achieving a uniform shot-treatment effect on workp...


Year: 2015, Source: US Patent 9,157,892
To provide a surface property inspection device and surface property inspection method with which the surface treatment condition of treated material such as steel subjected to such surface treatments...


Year: 2015, Source: US Patent 9,156,132
Disclosed herein is a surface treatment machine that enables the inhibition or reduction of residual abrasives that remain on a workpiece that has been surface treated. An H steel (a workpiece to be t...


Year: 2015, Source: US Patent 9,128,063
Apparatus and methods for measuring stress or strain in a conductive material without physical contact with the material are provided. The device comprises an inductor circuit configured to induce an ...


---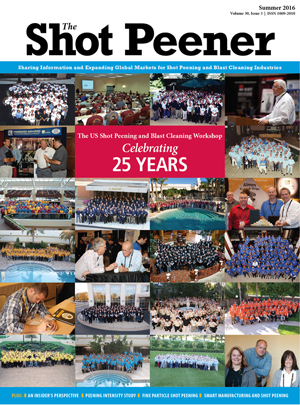 The Shot Peener magazine is dedicated to sharing information and expanding global markets for the shot peening and blast cleaning industries. We cover topics of importance to a wide range of readers -- from OEMs to engineers to academics to machine operators -- in a fresh and engaging format. The magazine is free of charge to make it accesssible to as large an audience as possible.
Electronics Inc. publishes the magazine. For more information, visit The Shot Peener magazine.