Patents Relating to Shot Peening
The articles below are archived in the shotpeener.com Library. You can search these articles by using the keyword search below. Click on an article title to view details and access a free full text pdf. Search Tips
Total articles (550)
Page 6 of 40
Year: 2001, Source: US Patent 6,315,646 B1
A processing system for increasing the quality of a gear having a shot peening apparatus for subjecting, to shot peening, a gear after tooth-forming and surface hardening; a barreling apparatus positi...


Year: 2001, Source: US Patent 6,311,965 B1
Stabilizer (1) for motor vehicles which has a toroidal cross section, and which is formed of several stabilizer sections that, together, create a U-shape having a pair of U-legs (2) connected by a U-b...


Year: 2001, Source: US Patent 6,267,558 B1
An article and a method for improving an article that results in a reduction or elimination of damage due to fretting from contact of similar metals. The invention specifically reduces wear-related fr...


Year: 2001, Source: US Patent 6,224,686 B1
The high-strength valve spring uses, as the material, a steel containing 0.5-0.8% C, 1.2-2.5 wt % Si, 0.4-0.8 wt % Mn, 0.7-1.0 wt % Cr, balance Fe and inevitable impurities, where, in the inevitable i...


Year: 2001, Source: US Patent 6,189,356 B1
A mask for masking a corner of a metal component during peening. The component has a first surface defining an opening in the component and a second surface intersecting the first surface of the compo...


Year: 2001, Source: US Patent 6,238,268 B1
An improved method and apparatus for media blasting a workpiece 20 is described. The media blasting apparatus 10 of the present invention includes a media reclaim and recycle system 35, which reduces ...


Year: 2001, Source: US Patent 6,289,713 B1
A method for calibrating a gage for measuring shot blast intensity having an indication mounted on a platform adjusts the calibration of the indicator to compensate for variations of positioning of th...


Year: 2000, Source: US Patent 6,012,316
With a view to increasing the lifespan of metallic dental components as regards fatigue fractures, compressive stresses are introduced into the surface layer of these components, such as by means of s...


Year: 2000, Source: US Patent 6,156,377
ABSTRACT Provided is a low-priced metal coating, treatment which causes less pollution, wherein the dispersion of ceramics and the forming of a metal coat are performed by blasting treatment; and a c...


Year: 2000, Source: US Patent 6,153,023
A method for shot peening a hard metal product that has a hardened surface. The method includes projecting shot on the hardened surface of the hard metal product. The ratio of the Vickers hardness of ...


Year: 2000, Source: US Patent 6,142,027
An apparatus and method are provided for calibrating a densitometer based sensor for measuring the linear density of the shot particles passing through a shot peening system to ensure that mass flow r...


Year: 2000, Source: US Patent 6,099,391
A mixture of water and glass beads is ejected to a root of a gear which has been cut to form gear teeth. The glass beads are oriented so as to be ejected to the root, and the glass beads and the water...


Year: 2000, Source: US Patent 6,032,320
A trowel and related method of manufacture in which residual stresses are intentionally imposed upon the bottom working surface and/or the top mounting surface of a trowel blade. Stresses can be impos...


Year: 2000, Source: US Patent 6,027,577
In a manufacturing method of a valve spring, a coiled valve spring made of an oil-tempered wire is applied with nitriding treatment and is supported to be rotated about its center axis. During a shot ...


---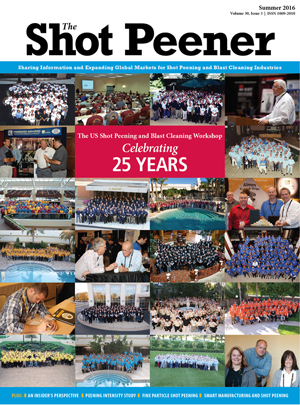 The Shot Peener magazine is dedicated to sharing information and expanding global markets for the shot peening and blast cleaning industries. We cover topics of importance to a wide range of readers -- from OEMs to engineers to academics to machine operators -- in a fresh and engaging format. The magazine is free of charge to make it accesssible to as large an audience as possible.
Electronics Inc. publishes the magazine. For more information, visit The Shot Peener magazine.